We have a range of different curtain headings and styles available to you and choosing the right one can be a challenge. We thought we would put together a little information pack to help you make your decision.

Curtain Heading Options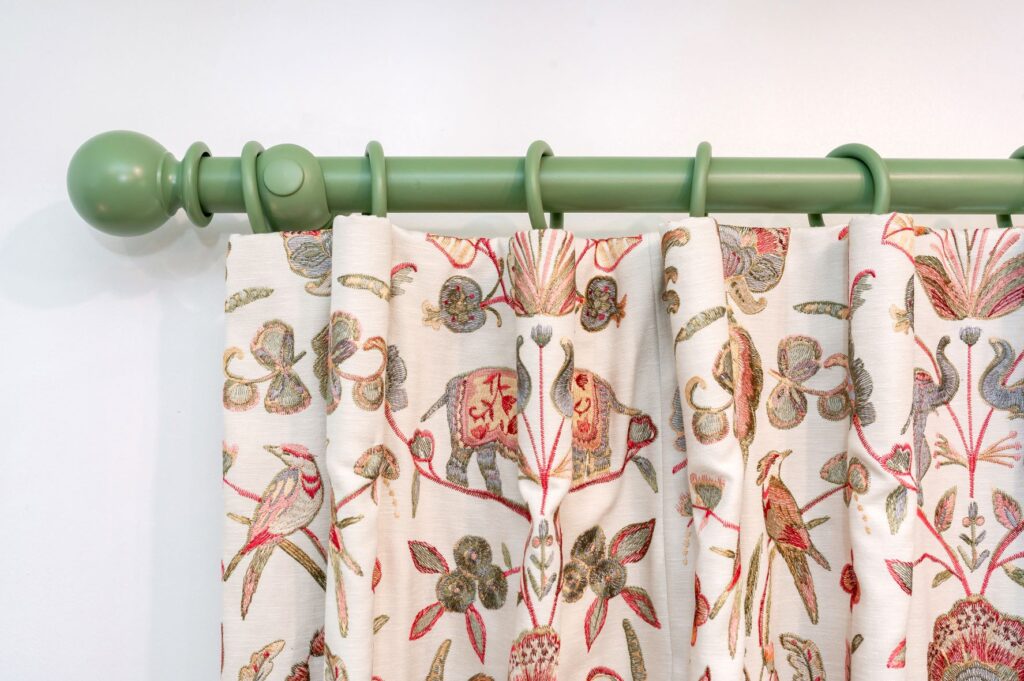 Our curtain heading tape selection include:
Gathering Tape
This style creates an informal gathered look and is also referred to as a Cottage heading. The tape is usually 2.5cm or 1 inch deep and not strong enough for long or interlined curtains, as a rule we use this heading for dressing table curtains.
Pencil Pleat Range
The pencil pleat style is as it sounds, it looks like a very neat row of pencils gathered together, not only that it is the most reasonably priced heading tape we offer, and also comes with a choice of depths making it very versatile.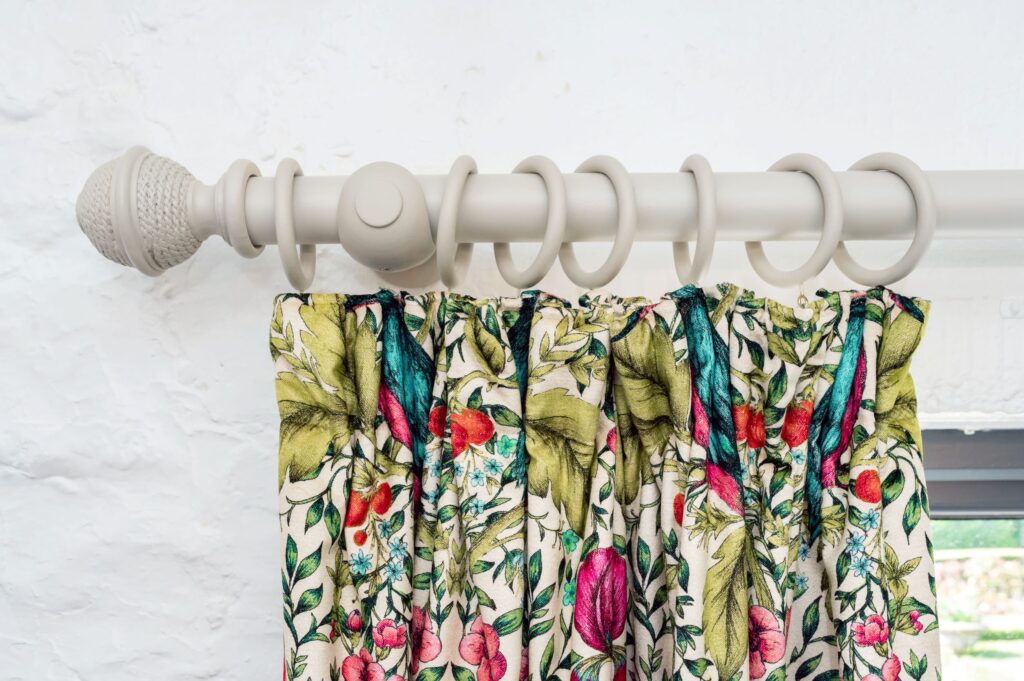 Narrow Pencil Pleat Tape
This tape is usually 5cm or 2 inches deep and used on small curtains or sheers. It's either set to the top of the curtain or set down the same distance as itself to form a casual stand-up heading.
Standard Pencil Pleat Tape
This tape is usually 7.5cm or 3 inches deep. The tape we use has multi-pockets down the length (instead of the more common 3 fixed pockets), this allows more choice with your hook position. Like the narrow pencil pleat tape, this tape can also be set down from the top of the curtain to form a deep stand-up heading. This is sometimes preferred on poles to cover them when the curtains are closed.
Deep Pencil Pleat Tape
This tape is usually 15cm or 6 inches deep and used on long curtains to look more in proportion with a longer curtain drop.
Wave
A trademarked style of curtain or sheer heading designed by Silent Gliss. This tape is 7.5cm or 3 inches deep and creates a heading of fluid waves hanging below an appropriate pole or rail. As this heading style stacks back very well it is regularly used at large windows or walls of glass and works especially well in contemporary homes. You choose between a 60mm or 80mm wave.
Stand up
A stand up heading is made using a pencil pleat tape set down from the top of the curtain, which can be tailored to any depth for dramatic appearance or to cover any diameter pole.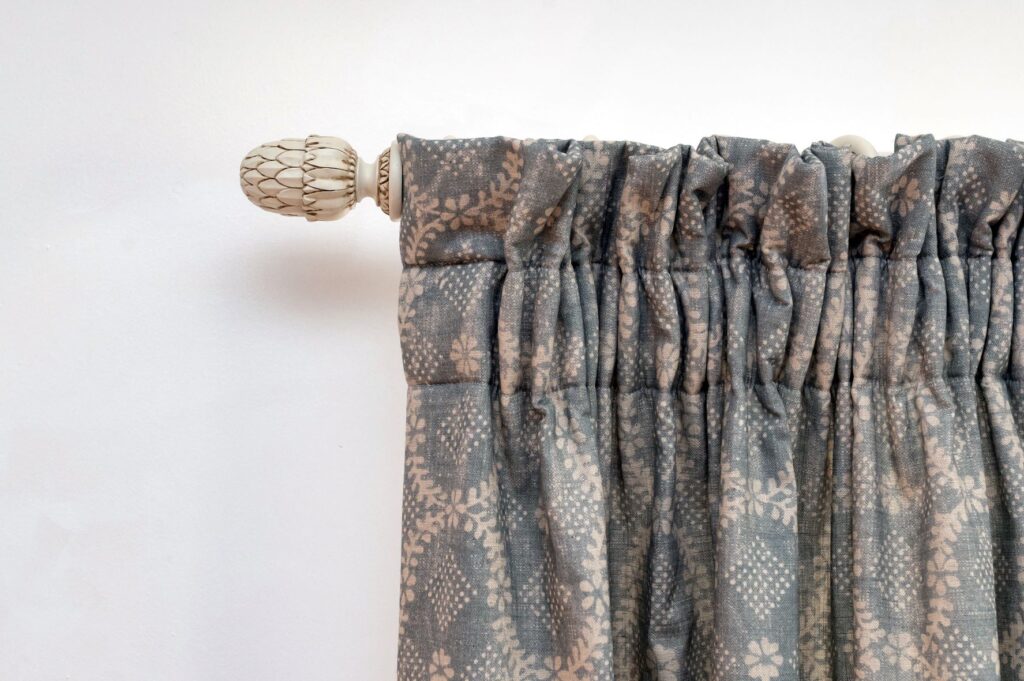 For all other headings we use a fusible heading buckram within the curtain. We make the pleats by hand offering a more elegant and formal bespoke finish. We use a variety of buckram depths depending on the drop of your curtain. Usually 10cm or 4 inches for short curtains, 12.5cm or 5 inches for mid length curtains, 15cm or 6 inches for full length curtains and 20cm or 8 inches for extra long curtains.
Curtain Heading Styles
Triple Pinch Pleat Headings
A traditional curtain style option is the triple pinch pleat heading, also known as French pleats. This gives a beautiful tailored finish.
Double Pinch Pleat Headings
A more modern and equally as popular twist to the triple pinch pleat curtain style is the double pinch pleat.
Goblet Pleat Headings
This heading style is made the same way as a triple pinch pleat heading. Only the bottom of the pleat is sewn into place. Instead of sewing in the top of the pleat it is opened out and filled to keep its shape.
Cartridge Headings
A contemporary adaptation of the goblet heading. The bottom of the pleat is not stitched at all. The pleat is filled, as with the goblet heading, but naturally forms a cylinder that runs through to the main curtain itself.
Inverted Pleat Headings
Also known as a Box Pleat heading. This more contemporary curtain heading places the pleats at the back of the curtain, creating a wall of fabric at the front. The pleat at the back can then remain backwards facing if hanging from a pole or can be squashed flat and machined down the trough for a more tailored look.
Tube Headings
This simple heading style allows the maximum coverage from a width of fabric. It is ideal for windows or doors that have no space for a more traditional curtain fullness or if this project has a restricted budget. The tube can be forward or reverse facing if hanging from a pole and forward facing only if hanging on a rail.
Eyelet Heading
Getting their name from the large metal rings inserted into the headings. Eyelet curtains hang directly onto the pole. It is worth bearing in mind that this style of heading needs dressing in every time they are closed as they have no pre-formed method for this.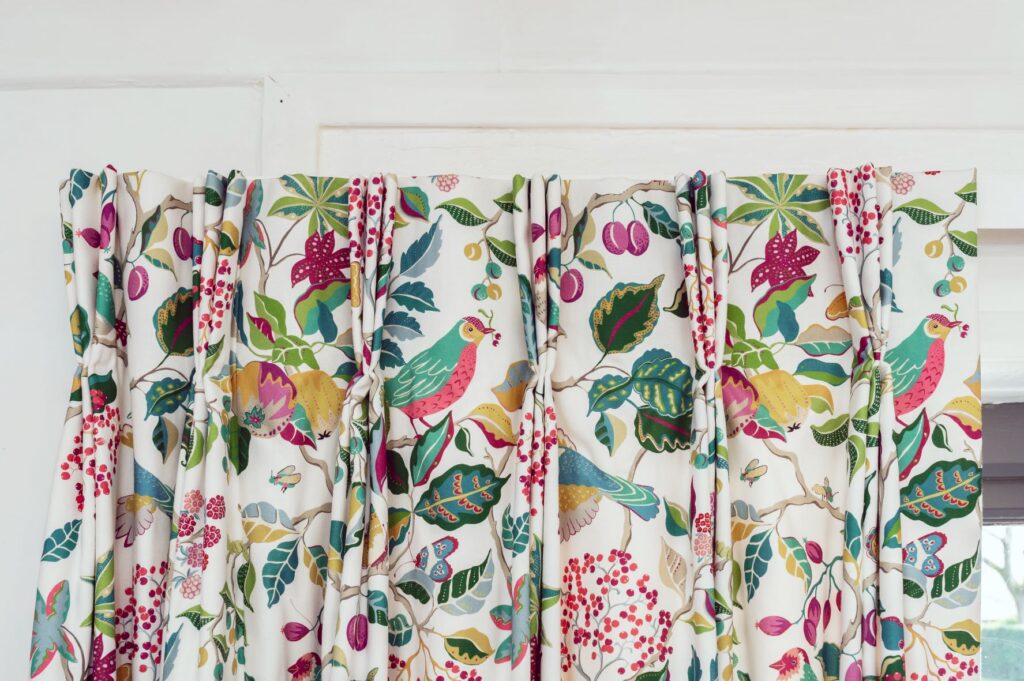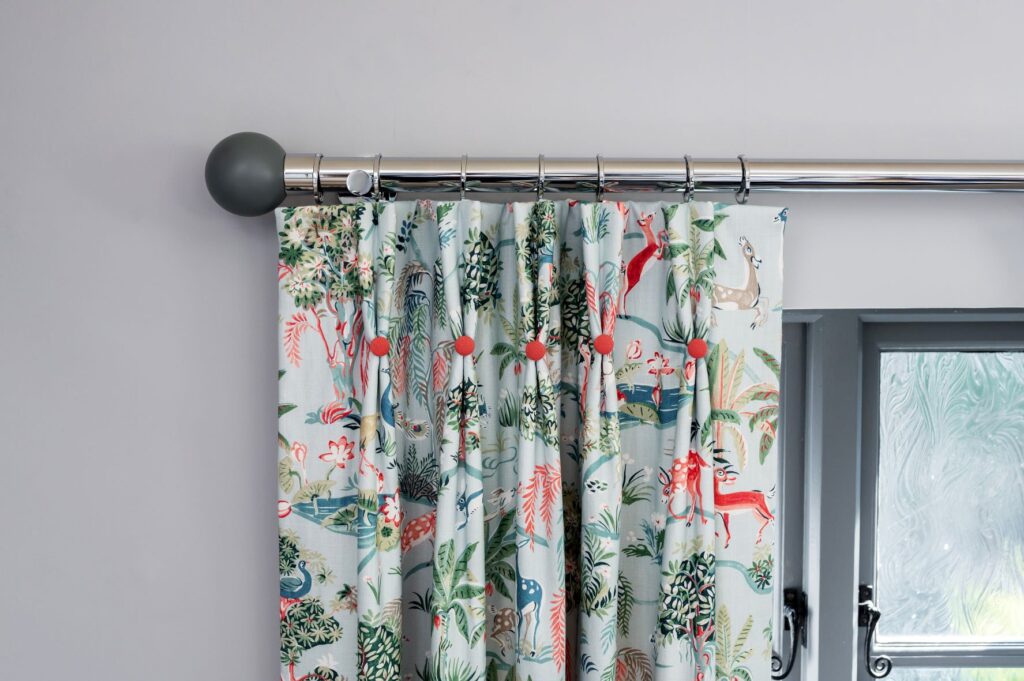 Trimmings
Trimmings are a great way finish your scheme. Adding the same type of trim to both your curtains, tiebacks, pelmet or valance, cushions or headboard can give a subtle, stylish and unified look to your room.
You could use trimmings to inject a hint of colour or different textures into an area. Consider adding coloured buttons to the base of your pleats or a braid or contrast border to your curtains or blinds.