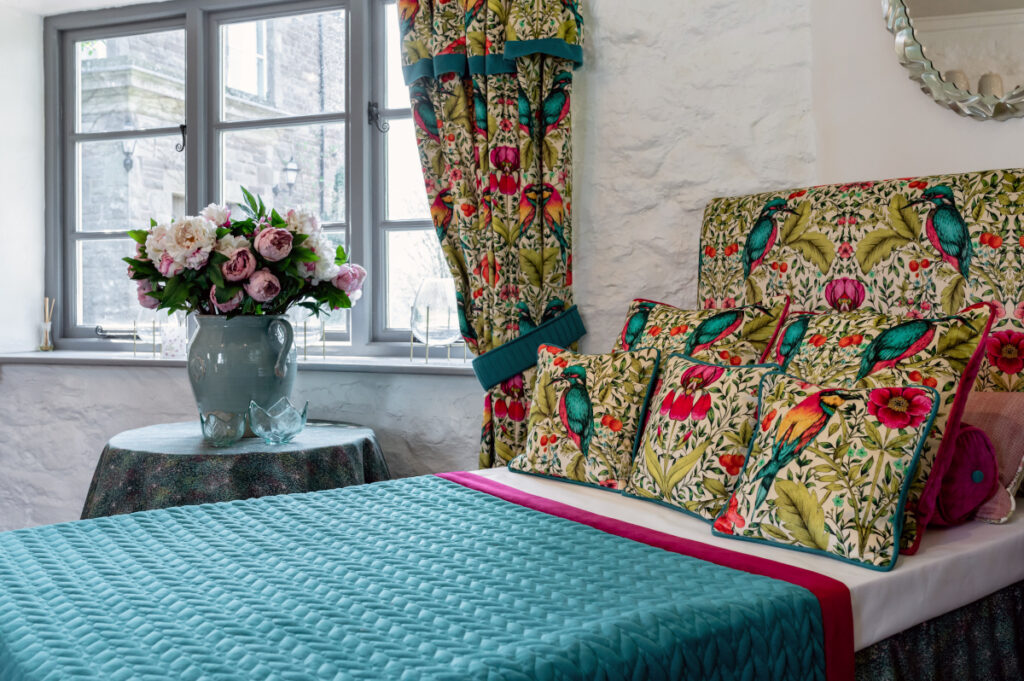 Let's just start by saying, a small room should never be seen as a negative. Just think…less space to clean, easier to decorate and ultimately cosy too. There's nothing stopping you from packing just as much comfort, design and creativity into a teeny, tiny space as you can with a large room. Plus, with today's furniture finds, there is a range of products from clutter-free storage solutions to space increasing products that will instantly create an illusion of space. Whether you are carrying out interior design in a huge 6 bedroomed house or a quaint holiday park or log cabin we've got the pointers on how to make a room look bigger…
Let's Start with the Walls
Think bold, bright and beautiful. Wallpaper and paint can add depth to any room whilst instantly diverting attention from the rest of the space, opt for a funky pattern or one tone colour. If you decide to go bold, this can be balanced out with greys, whites, and beiges to tone down the décor. Or, if you have an accent colour in mind, why not create a feature wall and coordinate your furnishings to match.
Choose Wisely
When you have a small space to work with, it's necessary to multi-task. Finding pieces of furniture that double up as storage solutions are a great way to keep your room clutter-free and beautiful too. Think coffee tables with draws and shelves, a sofa with secret storage or shelving for your wall, all are essential when it comes to answering the question of how to make a room look bigger.
When it comes to bookcases and units, we believe that you should be aiming high (if your ceiling allows it). A tall feature will open up any room and emphasise height. Fill these with books, photographs, CD's plants, and home accessories to create a feature uniquely suited to you and your home. Another option is to opt for smaller furniture altogether.
Bring the Outdoors In
Once the furniture is in place, the last thing you want to do is overpower the room by cluttering it with accessories. Although furnishings are essential to add character and personality, it's important to choose these wisely. If you don't fancy filling a corner with a lamp or ornament, while not try a house plant instead? Whether you choose artificial or fresh, succulents or flowers, they are sure to add a pop of colour and depth to any room. Take a look at our extensive selection of artificial plants and flowers to get some botanical inspiration!
Floor and Wall Fillers
Floors and walls, the two largest spaces in any room. Mirrors or anything with a reflective surface for that matter, are especially useful for smaller rooms to expand visual spaces. You could opt for a large mirror to act as a focal point in the room. Scatter a range of quirky, individual ones around to instantly open up any space and make it bigger and brighter. If you don't have the space to dot mirrors around, try some mirrored furniture to help reflect the light. Place a rug in a focal point of the room, ensure the edges go beyond the furniture to give the illusion of a larger space. This could be a light colour or be brave and opt for a brighter, bolder style. Either way, a rug is sure to complete any space and make it cosy too.
If you've been feeling underwhelmed by your living space, then we hope these pointers on how to make a room look bigger gives you the inspiration to mix things up a little. We spend a lot of time in our homes so it's important to get the most out of each room and create a space you can be proud of.