Christmas at Coach House Interiors offers you the perfect environment to start your Christmas shopping. There are lots of gifts and decorations to choose from in our interiors shop, including some new arrivals. Why not start your Christmas shopping, keeping it local and supporting a local family business.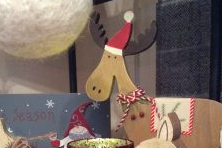 For 2 nights only Thursday 18th and Friday 19th November 2021 we will be open from 10am till 8pm. We will be offering 20% discount on everything excluding fabric. So take advantage of our great offer and pop in for a festive shopping experience.
We have have some lovely new baubles to hang from your Christmas tree.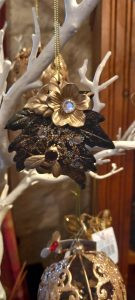 If you would like to visit the showroom for specific interior requirements please make an appointment. Our customers really appreciate having one to one attention with the appropriate member of our team available. However if you would like to just 'pop' in for a browse, feel free to just call by.
If you would like to make an appointment please call or email. We are open Monday to Friday 10am – 5pm and Saturday 10am – 1pm.
Our interior design team offer bespoke consultations for all areas of home décor, including upholstery, soft furnishings, wallpaper, paint and flooring. We're Herefordshire based and offer home visits as part of the package.
If you would like to linger a while during your visit to us, not only is there the fabulous gardens to wander around here at Brobury.