Whether you're buying a new sofa or choosing to reupholster a favourite chair, there are a variety of different upholstery fabrics out there that you can choose from. From patterns, plains, textures to durability, there's lots to consider.
Have a read through our tips below and then browse our extensive selection of upholstery fabrics available online, alternatively visit our Herefordshire showroom and pattern library.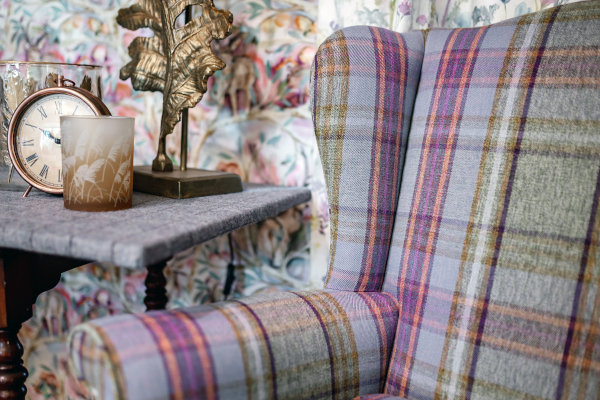 Styles
Consider the type of furniture that you're buying or recovering, as well as the room that you intend to put it in. Is it a casual setting where you can use something that stands out, or is it more formal where you'll need to use traditional patterns, or a muted colour palette. Look for modern or contemporary styles based on how you would like your room to look. Ornate carved chairs wouldn't suit a polka dot pattern, but dots may look good in a children's room.

Take a step back and think about how you'd like the piece to look, make sure that it fits in with other pieces which are already in the room. If you're wanting to embrace the latest fashions, then make sure that it's something that you truly like and can live with for years to come.
Pattern or plain
Consider the character of the furniture, if you're recovering an existing piece, then you may want to emulate the look it had before a fresher design, or to make a total change. Think outside the box, classic styles don't really need a classic design applied to them. Antique wing back chairs would historically be upholstered in floral prints, but they can be brought up to date and covered in a more plain striking colour or a modern pattern.

If you are selecting a different pattern then consider the size of the design, smaller pieces like dining chairs or stools wont show the full potential of a fabric with a large pattern on it.

By mixing and matching different patterns in the same area, you can add a new lease of life to the room. Contrasting patterns work by ensuring that each pattern is a different scale. This also prevents patterns from merging into each other and making the room look confused.
Selecting a colour
Colours can help to change the mood of a room, if you want to match the weight of the colour to the rest of the room. Electric blues aren't going to work in a room full of soft pastel colours. Different colours can work well together if they're the same weight, alternatively a feature chair could have a big impact.

It's important to consider whether you want your furniture in cool or warm tones, warmer tones have an undercurrent of yellow, orange or red and make you think of sunlight and heat. Warm colours bring items closer and also create a sense of intimacy and comfort. Cool colours are known for creating a sense of space and depth and can have a hint of blue and stark white.

You don't need to create a whole room in one tone, statement pieces in a contrasting tone can help to being a welcoming sense of balance to a room.
Textures and fibres
There's a number of different textures that you can choose from when it comes to upholstery fabrics, from tight, to smooth to fluffy, velvet and linen. Make sure that you pick something that you'll enjoy sitting on.
Durability of upholstery fabric
Use the fabric in the way it was intended, ornate embroidered designs can be saved for the rarely-used accent chair in the corner, high traffic areas like the living room can result in fabric deteriorating quickly.
 
Upholstery fabrics are tested enough at the development stage to make sure that they meet regulations. Some fabrics will have great special effects which include them being water repellent fabrics which don't soak up spills, or there's fire proof fabrics which will repel fire.
More information
Should you require any more information regarding our upholstery services, simply get in touch with us today!
Did you know that we offer a bespoke consultation service including a home visit to offer design ideas and help with choosing your upholstery fabrics?