Sofas can be used to make a statement in any style of interior, from grand rooms with ornate period details to small cottage snugs. Our team can make loose covers for all types of sofa.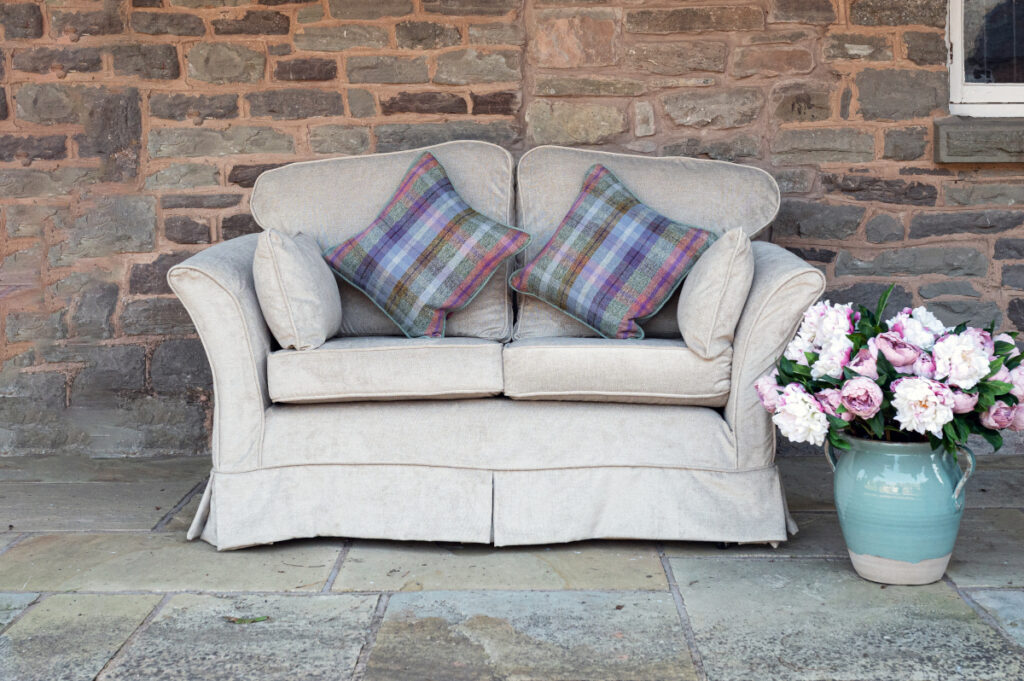 A classic high back chesterfield style with customary studding adds a dash of tradition to a large space. Alternatively a three seater with soft contours will deliver a relaxed contemporary feel.
For more compact rooms ,clean lines and boxy shapes will make a big impact without feeling visually heavy. A classic low arm style is ideal for tucking neatly into a small space or underneath a window
Neutral Fabrics
If you have rustic stone floors, exposed beams that are found in old country homes, warm tones such as soft putty,muddy taupe or pale oat will work best. If it is laid back coastal feel you are after then use pale greys and off whites.
Texture is key when choosing neutral fabrics, slubby linen, herringbone weave or soft felt can add an uplifting visual appeal in an instant.
Add character to a cosy fireside chair by choosing loose covers in a classic plaid.
When using neutral colours bear in mind they show signs of wear and tear more easily.
Pattern
Cover a sofa or chair with a patterned fabric and use it as the focal point of the room. You can accessorise the rest of the room picking out colours from the patterned fabric.
With a set of loose covers you can change with the seasons. Add a more cosy feel in the autumn/winter and change to a lighter more floral feel in the spring/summer.
Use smaller patterns on smaller pieces of furniture and use the larger print fabrics on large three seater sofas.
You can also just use the pattern on the seat and use a contrasting plain for the rest of the chair or sofa.
Block Colour
If you are using a block colour when choosing loose covers be bold, use bright colours. Just be aware if they are in direct sunlight they may fade over time.
Plain bold colours can add a dash of originality, adding style to even the smallest of spaces.
Buttons, pleating, trims and cord piping added in bold shades brighten up a plain fabric.